Visa et conditions d'entrée
Visa et conditions d'entrée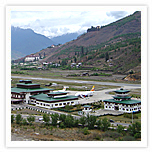 Visa formality:
The visa application form needs to be completed and sent to us at least two weeks prior to date of travel. The ministry of foreign affairs takes a week to process the visa.
Once we receive your visa, we will fax a copy to you or your agent and a copy to the Druk Air station manager in the city from where you will be travelling into Bhutan.
Tickets:
The Druk Air tickets can be sent to your address through courier or to the Druk Air station 5 days prior to the date of travel. You can collect your tickets from the check in counters.
Visa Requirements:
Indian nationals do not require a visa for Bhutan. A permit will be issued at the entry point on production of a passport or voters ID. Other nationals should check visa requirements at the Bhutan embassy.
Custom and Duties:
Visitors are required to complete a passenger declaration form for checking by concerned officers on arrival. The following articles are exempt from duty:
(a) Personal effects and articles for day-to-day use by the visitor.
(b) 2 liters of alcohol (spirits or wine).
(c) Instruments, apparatus of appliances for professional use.
(d) Photographic equipment, video cameras and other electronic goods for personal use.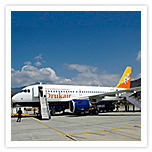 The articles mentioned under (c) & (d) must be declared on the declaration form. If any such items are disposed off in Bhutan by sale or gift, they are liable for customs duty. On departure, visitors are required to surrender their forms to the Customs authorities.
Import/export of the following goods is strictly prohibited:
(a) Arms, ammunition and explosives.
(b) All narcotics and drugs except medically prescribed drugs.
(c) Wildlife products, especially those of endangered species.
(d) Antiques.
Import of plants, soil etc are subject to quarantine regulations. These items must be cleared on arrival. Visitors are advised to be cautious in purchasing old and used items; especially of religious or cultural significance as such items may not be exported without a clearance certificate.
---