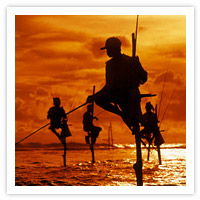 A tear-shaped droplet of land, south of the Indian subcontinent in the vastness of the Indian Ocean, Sri Lanka is also called the island of serendipity. A visit to this endlessly varied isle cannot fail to enchant you, offering a multitude of delightful surprises.
From north to south Sri Lanka has a maximum length of 435 km (270 miles) and at its widest point it measures 225 km (140 miles), giving it a land area of 65,600 sq. km (25,000 sq. miles). Once called the finest island of its size by Marco Polo, it is easy to understand why; from exquisite beaches at sea level to 7000 ft high national parks, the island has something to offer all tastes. Tropical beaches; lush verdure; history, culture and ancient monuments; the serenity of pristine jungles and the bustling vitality of modern cities.
The climate of Sri Lanka is typically tropical. In the higher elevations it can be quite cool. Bright, sunny, warm days are the rule and are common even during the height of the monsoon - climatically Sri Lanka has no off-season. The south-west monsoon brings rain mainly from May to July to the western, southern and central regions of the island, while the north-east monsoon rains occur in the northern and eastern regions in December and January.
Sri Lanka is mainly an agricultural country, where the chief crop is rice. Tea, rubber and coconut are also important agricultural crops while Sri Lankan tea has a big demand in foreign countries. Today Sri Lanka is the world's second largest tea exporter. Cocoa and spices are also cultivated. The country is also a major exporter of precious and semi-precious stones.
Sri Lanka has a population of approximately 18.5 million people, which includes many ethnic groups like Sri Lankan Tamils, Indian Tamils, Moors, Malays and Burghers (of Portuguese and Dutch descent) of which the majority are Sinhalese. Buddhism is the country's dominant religion; Hindus, Muslims and Christians form the other religious groups.
Sinhala and Tamil are the official languages. English is widely spoken and understood. Sri Lanka's literacy rate of 88.6% is one of the highest in Asia.
Sri Lanka is a land of religious freedom and tolerance. Wherever you travel you will come across a Buddhist Temple or Dagaba, a Hindu Kovil, a Christian Church or a Mosque, each with its own distinctive architecture.
The island is steeped in history, and its past shrouded in myth. Legends about various landmark spots on the island are abundant. Adam's Peak is said to be the place where Adam, having been sent out of heaven, first set foot on earth. And Adam's Bridge (the chain of islands that links Sri Lanka to India) is considered to be the very series of stepping stones that Rama, aided by his faithful ally the monkey god Hanuman, stepped across in his mission to rescue Sita from the clutches of the demon king Ravana, in the epic tale Ramayan.
Buddhism was introduced in Sri lanka around 247BC. Monk Mahinda or Mahindra as he is known in India is accredited with having converted large groups of people to Buddhism, and it was at this time that this pristine religion found a base in Sri Lanka. The first entries in the Mahavamsa - or "Great History" - date back to 543BC. King Devanampiya Tissa was one of the first rulers. It was in his period that a sapling of the sacred Bodhi Tree, under which Lord Buddha attained enlightenment (nirvana), was brought to Sri Lanka.
Marco Polo arrived in Sri Lanka around 1505, and the Portuguese occupied the island's coastal regions, which became the Kingdom of Jaffna. The Dutch took over in 1658. Finally in 1818 it became a British colony.
Between World War I & World War II, political stirrings started to push Sri Lanka towards eventual independence from Britain - but in a considerably more peaceful and low-key manner than in India. At the end of WWII it was evident that independence would come very soon, in the wake of independence for Sri Lanka's larger neighbour. In February 1948 Sri Lanka, or Ceylon as it was still known, became an independent member of the British Commonwealth.